Our lone worker solution from Ok Alone now works with Google Assistant. We have an action for your android smart phone that lets you connect to your Ok Alone lone worker account and manage your status using your voice – handsfree while you work alone.
What is Google Assistant?
Google Assistant is a virtual assistant from google that lets you do lots of things using your voice. By saying something like "Hey Google", "Ask Google" or "Ok Google" you can ask anything. You can control devices, play music, get the news and now you can control your Ok Alone status using your voice too.
How do I add Ok Alone to Google Assistant?
Using Actions for Google Assistant you can search for Ok Alone and our lone worker action to add it to Google Assistant. It is then ready to use out of the box.
https://assistant.google.com/services/a/uid/0000002131c500d5
How do I manage my Lone Working with Google Assistant?
Once the Ok Alone lone worker action is installed, here is how you can use it when working alone to manage your status with any Google Assistant.
How to Install Ok Alone on Google Assistant
Before you can use Ok Alone on your android device you need to install our app. To do this do the following:
Open google assistant and seach for "Work Alone"
Click on the "Ok Alone" icon in the search results
Click the "Try it" button
Follow the instructions to link the account, agreeing with all the options
How to use Ok Alone on Google Assistant
1. Set Your Lone Worker Email
To link Google Assistant to your ok alone account you need to make sure you Google email is the same as your Ok Alone email. Once that is done the accounts will link automatically.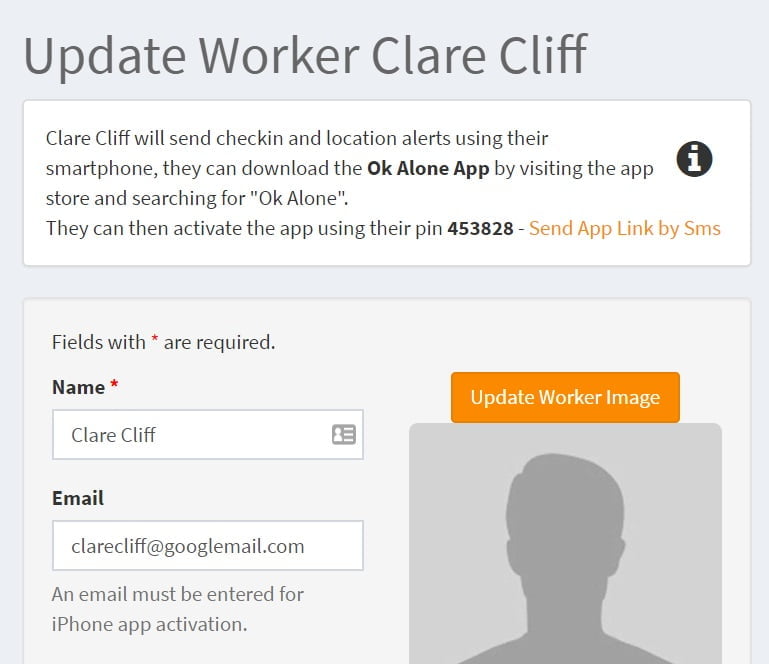 2. Start Your Lone Working Shift
Once Google Assistant is linked to your Ok Alone account, start your shift by saying
"Ask Work Alone to start my shift"
Your shift will then be started and Google Assistant will say your check in time.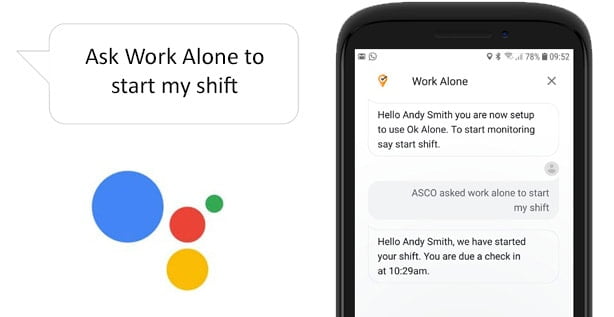 3. Check In with Google Assistant
When you are working you can check in at any time by saying
"Ask Work Alone to check in"
You will be checked in and Google Assistant will say your next check in time.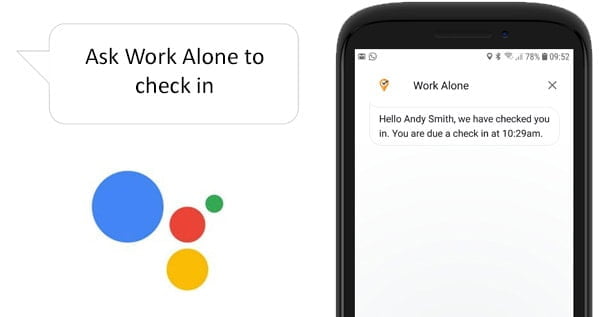 4. Get Your Lone Worker Status
When you are working you can get your current lone worker status by saying
"Ask Work Alone for my status"
Google Assistant will then say your status.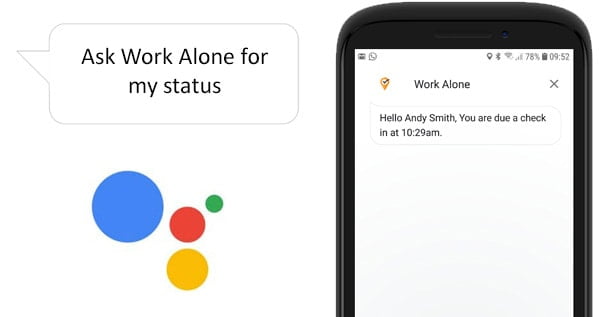 5. Get Help with Google Home
When working alone you can get help at any time with Google Assistant by saying
"Ask Work Alone for help"
A help alert will then be sent out to all your monitors.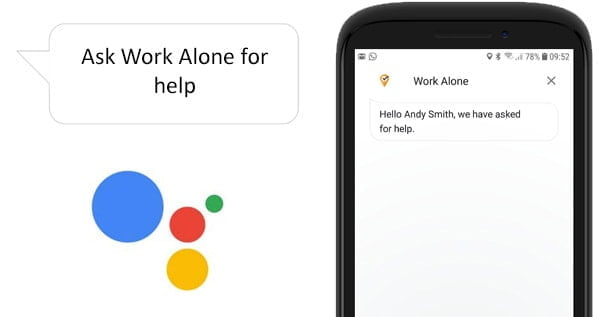 Google Assistant and our Ok Alone event is available for everyone, even on free trials. So use the links above to try Ok Alone for free today.